How we can help
We start with getting to know you and your aspirations. Our process ensures we follow a tried and tested approach to delivering investment, wealth management, financial planning, lending, and business advice that's designed specifically for you – and that adapts to your changing needs and aspirations over time.
Our services are best suited to individuals and families that want comprehensive advice or strategic advice from a firm that they can trust to act in their best interests both now and into the future. We call it Principal Advice.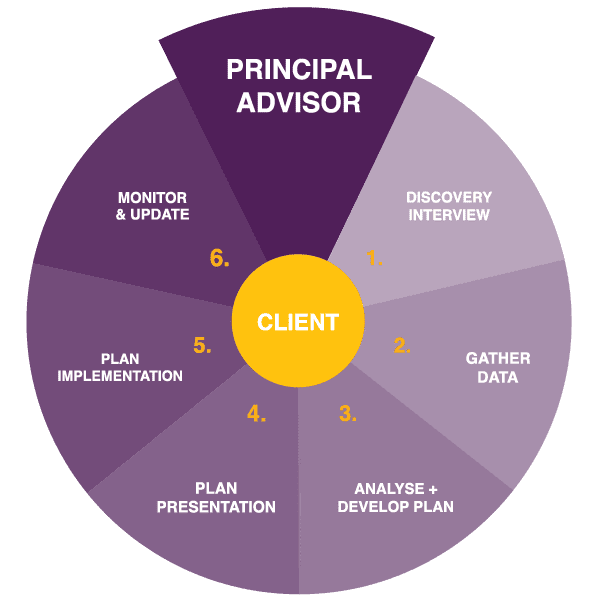 Defining and agreeing the financial objectives and goals will be the guide to the financial plan and should provide a blueprint for your financial future. They should contain the following features:

Quantifiable and achievable
Clear and have a defined timeframe
Separate your needs from your wants

They should be agreed and documented with your adviser to assist you measure progress. They should also be reviewed periodically to capture changing circumstances and to ensure they remain relevant.

The client engagement and financial planning process and its success will depend on the quality and clarity of the information communicated to your adviser. Your adviser will complete a detailed financial fact-find to capture all relevant information in relation to your finances. This will include:

Income and expenditure
Assets and liabilities
Risk attitude, tolerance and capacity

Your adviser reviews the information provided in step 2 and uses it to produce a report that reflects your current financial profile. The following ratios may-be produced to improve your understanding of your financial circumstances and to pinpoint areas of strength or weakness:

Solvency Ratio
Savings Ratio
Liquidity Ratio
Debt Service Ratio

Your attitude, tolerance and capacity for risk are assessed using a psychometrically designed risk tolerance questionnaire in relation to investment assets. This is also analysed to assess your asset allocation for investment or pension goals.

The financial plan is developed based on the information received in step 2 and analysis completed earlier in step 3. Each of the goals and objectives in step 1 should be addressed and a recommendation for each identified. It may include:

Net worth statement (a balance sheet)
Annual consolidated tax calculation
Annual cash flow report (displaying surplus or deficit)

The financial plan and any associated reports are presented, discussed and then signed by both client and adviser.

Once the analysis and development of the plan is complete, the adviser will outline the recommended courses of action. This can involve implementing:

A new pension or investment strategy
Changing debt provider
Additional life or serious illness insurance
Income and expenditure adjustments

The Adviser may carry out the recommendations or serve as your coach, coordinating the process with you and other professionals such as, accountants, lawyers, conveyancers, financial product providers, mortgage brokers, or other professionals.

Financial planning is a dynamic on-going process that requires continuous monitoring. Review of the actions recommended in the plan should take place regularly, and the goals should be reviewed annually to take account of a change in income, asset values, business or family circumstances.